Giveing The Keys To The Buyer On Closing Day
Handing over the keys — Closing gift for home buyers
Every where you turn right now, you're going to run into a "real estate agent". In Arizona, for every 168 people you come in contact with, at least one is going to hold a real estate license! What does that say to you? To me, it scares the hell out of me! I have been helping buyers buy and sellers sell for 2 decades. I close, on average, $10M in assets per year-didn't start that way, took me unitl my second year to get my bearings and become a productive agent. Now, understand I am not saying those agents who sell 2–4 deals a year are not good agents, but experience counts when you are pursuing home ownership. I recently "lost" a client as his girlfriend wanted him to use "her friend" he did, it was a nightmare and that "friend" only had 3 closed transactions under their belt…what could go wrong did. They still closed, but it was far from a smooth and happy transaction. Experience counts, always has, always will.
Bryan and I spoke over 2 years ago, he wasn't quite ready yet, had some issues to resolve, it took time, but we resolved them. Once his credit was where we wanted it to be, once we were able to get a full approval (underwritten approval) we began the home buying process.
We looked at as many homes as we could find in his desired price point and location, once we found the perfect fit, I successfully negotiated the contract and we were off and running. Once we passed the inspection and appraisal, it was closing time. One of my favorite moments is closing day, take a look: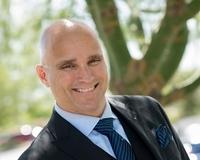 Author:
Chris Dunham
Phone:
602-321-6188
Dated:
July 29th 2019
Views:
214
About Chris: Greetings....Chris Dunham here. I am a father of two, consider myself a pretty cool Dad. I love scar...